kind heart, fierce mind, brave spirit
I came so that they may have life and have it abundantly.
John 10:10
Trail running on the beach is possibly the closest anyone will get to heaven without actually being there. 2011 saw a group of East Coast South African women chatting while running together along the beach. Kim van Kets, one of the founders of Wild Women and extreme endurance athlete-adventurer, was rambling on about how awesome the Wild Coast is and how it is absolutely critical for everyone to run parts of it. Lucille van der Merwe, another Wild Women founder and at this stage novice runner, agreed, but pointed out that a lot of runners would be unable or un-keen to run the Coast alone because of various concerns. It was decided on the spot that the obvious solution was to organise a group of friends to run the Wild Coast in a safe, supportive and inexpensive way. The 3rd Wild Women founder, Lisa van Wyk, joined the group to start planning this epic adventure. Janet Badenhorst joined the organizational team as a powerhouse of efficiency when Lucille relocated to Beijing in 2017.
The question isn't who's going to let me; it's who is going to stop me
Ayn Rand
The friends would create a fun, non-competitive and nurturing environment for women to go out and have a cool multi-day adventure in a place of astounding natural beauty. It would not be a race, it would be a journey – encouraging each other and celebrating one another's successes. Play would be an integral part of the experience – stopping to swim in rock pools and sipping cool cocktails at friendly local hotels would be obligatory.
The friends swung into action, a date was set and there was a core group of women of varying running abilities, spanning three decades in age. The name of the experience, Wild Women on the Run (WWORT), stuck from the outset. In no time at all there was a waiting list – training schedules were drawn up, group runs were organised, routes were plotted and meetings were held where the women could chat about kit, foot care, backpacks and their contents, river crossings, as well as (importantly) what kind of champagne ought to be purchased.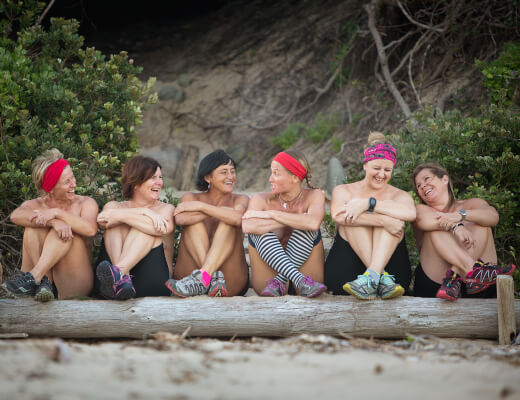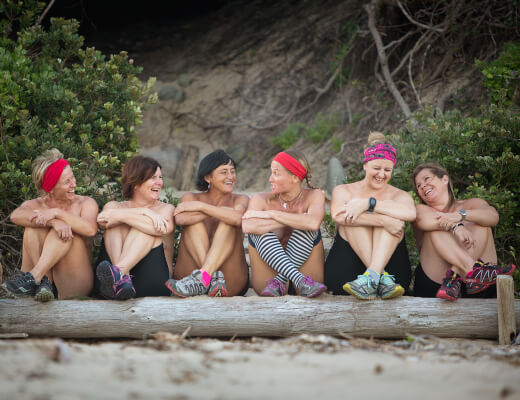 She made broken look beautiful and strong look invincible.
Ariana Dancu
The inaugural run took place in April 2012 from Mazeppa Bay to Glen Gariff – approximately 100km over a three-day period. There was a carnival atmosphere as the women said jolly farewells to their families. And the rest, as they say, is history.
The running route varies slightly each time,the terrain is always a perfect mix of long beaches and sublime grassy tracks with short bursts of taxing rocky or sandy terrain, complimented by the notorious Wild Coast hills when the group ventures inland.
Wild Women is now an institution and has continued to attract like-minded women to join the adventure on an annual basis.
…and one day she discovered that she was fierce and strong and full of fire.
The 2012 Wild Women group felt incredibly blessed and privileged to be able to be part of this amazing journey that they decided to use it as an opportunity to bless others. They selected two community projects which support both local women and children in the Eastern Cape area in the most extraordinary ways:
www.sponsoranangel.org | African Angels
Bus fare Babies | www.birthworks.co.za
To date, several 'generations' of Wild Women have raised close to R1 million for their chosen community projects. Each Wild Woman is obliged to raise a minimum amount towards the two initiatives.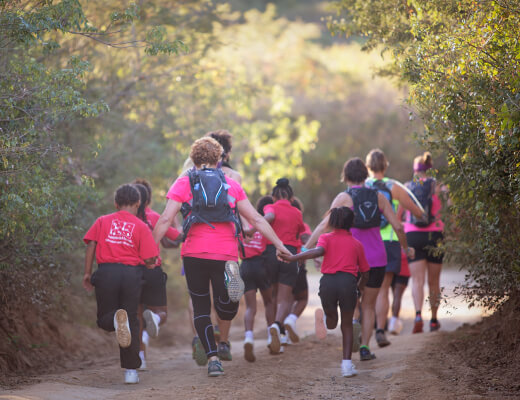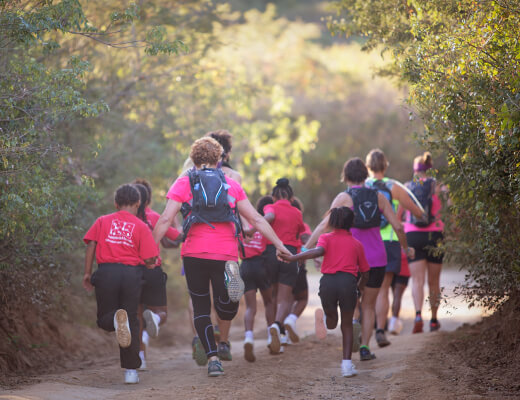 Behind every successful woman is a tribe of other successful women who have her back.
Both of our chosen community projects are registered non-profit organisations (NPO's). This offers a wonderful opportunity for companies, big or small, to make a difference through their corporate social responsibility initiatives.
All funds raised are donated directly to the community projects concerned. Each Wild Woman is required to 'pay her own way' – none of the sponsorship money is used to fund runners. No matter the value of your sponsorship, it does make a direct difference in the lives of local women and children on the East Coast of South Africa.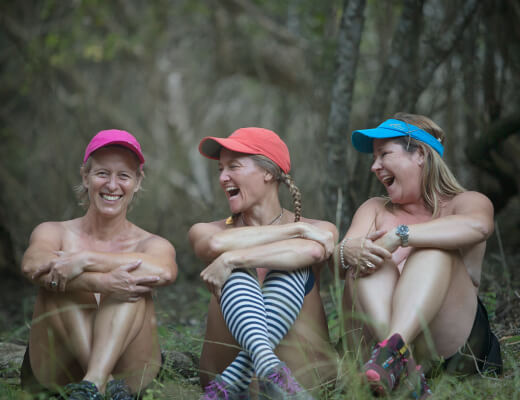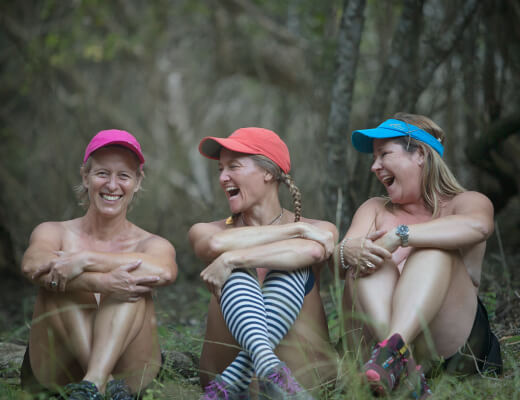 If you obey all the rules, you miss all the fun.
Katharine Hepburn
There are 20 permanent Wild Women entry tickets which are only transferable by the current ticket holders… Each Wild Women can participate for 3 years, after which she regifts her ticket to a worthy recipient. In order to get a ticket you need to find a current Wild Woman who is willing to part with hers!
Although it is always sad to say goodbye to any one of the special women in our group, the vision is that each existing Wild Woman will eventually outgrow her ticket and move on to other challenges. She then can bless another woman by passing on her ticket. There is no intention to make this event exclusive, however the group is limited by the fact that volunteer Wild Women organise logistics free of charge.
Moreover, we really want Wild Women to remain an intimate experience where all participants can interact and develop meaningful, authentic relationships with one another.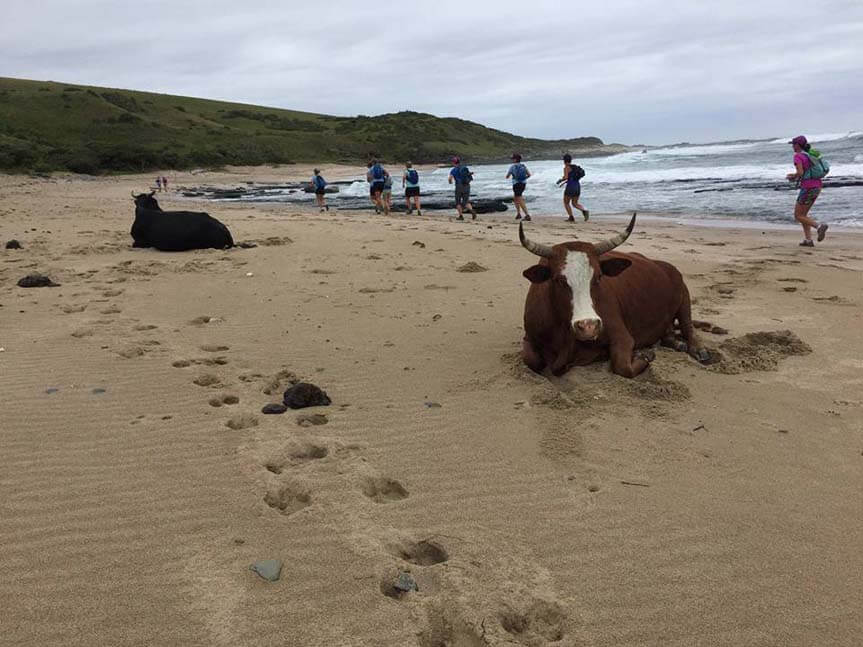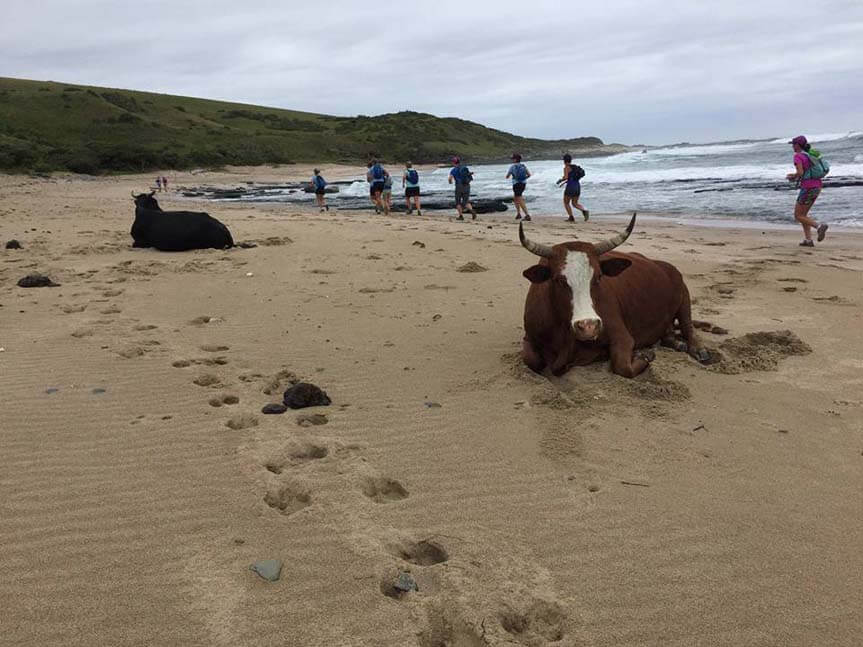 A FEW THOUGHTS FROM Wild Women
Behind every successful woman is a tribe of other successful women who have her back.
In my 40-something years on this planet, I am yet to experience anything that can match the pure unadulterated joy of finding myself running on some remote and beautiful Wild Coast beach as the sun rises and the light is at its most glorious. To revel in the exquisite beauty of nature, the strength of one's limbs, lungs & heart & the matchless sense of freedom that this 'cocktail' produces is indescribable. But to share this with a whole bunch of hilarious, wise, strong, fabulous women & a couple of Ngunis (Wild Coast cattle)…well, that is in another league altogether!
Wild Women On The Run afforded me the opportunity to experience the power & liberation of running on a majestic & glorious scale, while at the same time dispelling many of the myths surrounding women. That is to say that real (wild) women are those who uplift & build each other up as opposed to breaking one another down. If a group of women who were essentially strangers or acquaintances were capable of accepting me for who I am, then why the heck can't I?
Although I was active in 2012, I was not a runner. I couldn't run 300m without gasping for breath. But soon I could run 5km and I have never looked back. Not a single week has passed since then in which I have not run. I have met some of the best people, shared their love, pain, and joy. And I have experienced the most majestic coastline in the world!
I had undertaken a journey – on my own, liberated from the drama of my everyday life – to a place where I found unconditional acceptance, embraced by a sisterhood of love and strength. I've now come home, and while everything is just as I left it, nothing is quite the same – colours are brighter, feelings run deeper, and I have a squadron of women who cheer me along.